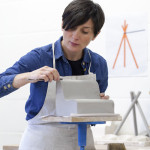 Dawn Youll is a ceramicist living and working in Glasgow. The urban landscape, the studio environment and the making process itself all find their way into her ceramic sculptures. By combining forms, colours and surfaces she creates curious compositions on a domestic scale "to communicate, celebrate and make sense of the world around us".
Dawn's work has featured in numerous exhibitions across the UK and abroad and she has represented the UK in Denmark at the European Ceramic Context 2010 exhibition and in France at a WCC-Europe exhibition.
In January 2011 Dawn was awarded the prestigious Arts Foundation Fellowship for Ceramics, and is a current recipient of a Creative Scotland Artists Bursary 2014.
Dawn has an MA in Ceramics from the Centre for Ceramic Studies, Cardiff (2008) and a BA in Ceramic Design from Glasgow School of Art (1999).
She is represented by Marsden Woo Gallery in the UK.
Curriculum Vitae
In addition to her studio practice, Youll has taught at Glasgow School of Art and John Wheatley College, Glasgow and at Grays School of Art, Aberdeen, as well as running art based projects for various client groups within the west of Scotland. She currently works part time as a Craft Programme Producer at Cove Park an international artist residency organisation on the west coast of Scotland.